Are you going to travel in Vung Tau? Do you looking for apartment with nice view, best price or the convience? Best 10 airbnb Vung Tau Vietnam for you. See more in Vietnamtours247.
La Vie En Rose /Yellow – Sea View Apartment
Our yellow designed apartment is located at central Vũng Tàu – is an ideal place to immerse yourself in the ambience of this seaside city that can watch the Bai Sau beach and the beauty colorful Ferris wheel from theme park.
Furthermore, it's embraced by a lot of local restaurant, 1 minitues from bus station and Chợ Mới market, whatever comes to your need, it's should be a less than 3 minitues by motorbike. Clean, comfortable, and much more convenience, this will be your home away from home.
Located on the 18th floor of Hodeco Plaza, La Vie En Rose is well-furnished with a kitchen, a dining table, 2 bedroom, 1 toilet and tiny green garden. A perfect choice for family, group of friends…
H.OM.E – Unit 2
A new destination in the heart of Vung Tau, H.OM.E. This is our first attemp to bring a fresh breath of air to the hospitality scence of Vung Tau. We promise to welcome everyone from all paths of life to come to our humble H.OM.E.
The place is designed and built by the very owner, who has travelled around Vietnam on her motorbike and many other countries Southeast Asian countries. With her backpacking experiences, her only desire is create a place where anyone can feel like home.
A small place in the middle of everything. It is located 5 minutes away from 2 of the most famous beaches in Vung Tau: Bai Truoc and Bai Sau. Minutes from the largest seafood market of Vung Tau where you can pick your freshly caught seafood and have a local to cook it to ensure the most authentic local flavour.
Explore Joker's room – Airbnb Vung Tau Vietnam
This spacious stylist one-bed contemporary apartment is located in the heart of the seaside town of Vung Tau. Shops, supermarkets, especially great eats are within walking distance. It has easy accessible links to the beach, local bars and restaurants.
The apartment consists of one Joker-Harley Quinn style bedroom, one bathroom, one fully equipped kitchen and a 270-degree balcony with paronamic views. This extremely roomy apartment also has a game area where you can even have a relaxing time with friends outside of the bedroom.
SUNNY CONDO | Modern & Cozy | Sea-Mountain View
Sea view apartment in modern and cozy style, suitable for couples or small families with children. With facilities including a living room, a bedroom, a kitchen, a bathroom, a large balcony overlooking the sea and a corner of the city, the mountains, the apartment is one of the quiet and full of options. Thai to make your travel more complete.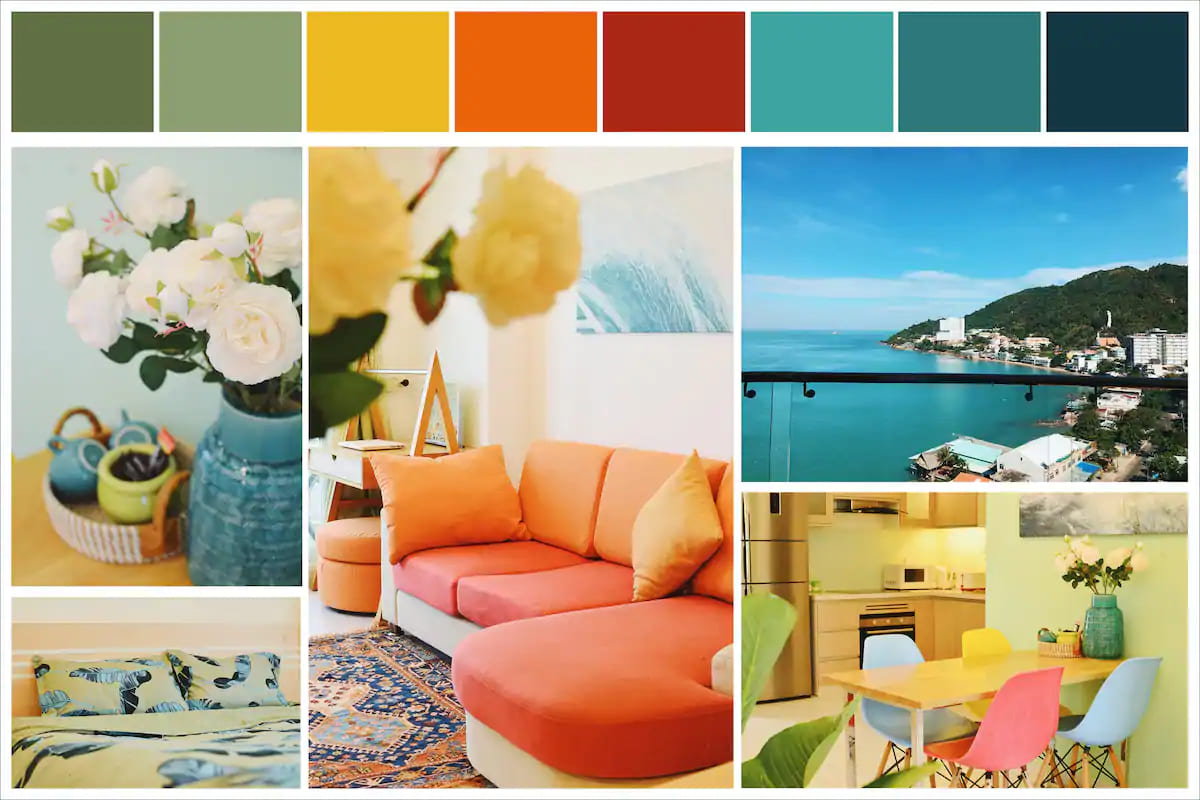 DYLAN HOTEL – AIRBNB VUNG TAU VIETNAM
The hotel is uniquely decorated in a variety of modern and extremely beautiful classical styles. Full facilities include: elevator, love chair, swing, love massage AV, cosplay
Located near the beach after 3 minutes walking, 700m from Kito statue, around all supermarkets, famous eateries in Vung Tau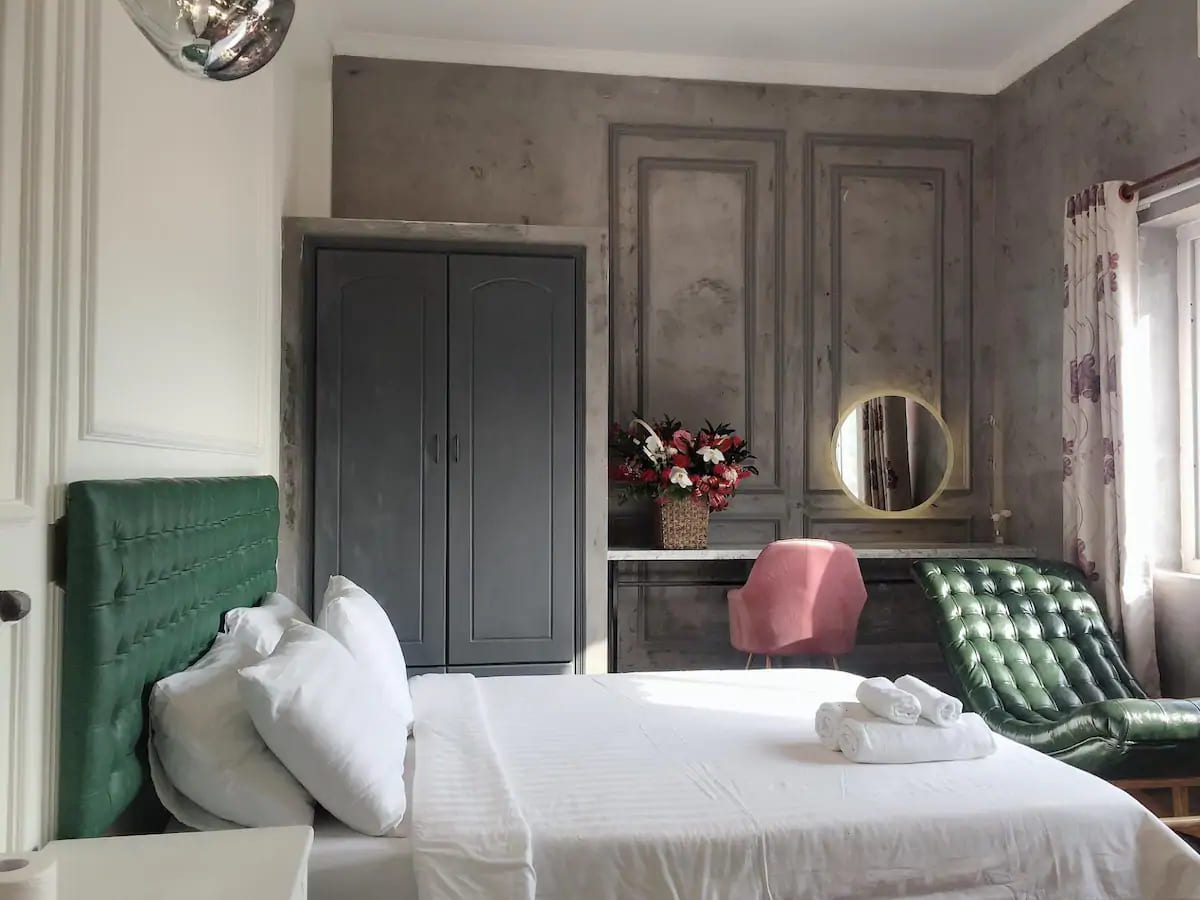 Ken's homestay – a cozy amazing house
☘️ Welcome to KEN'S HOMESTAY
Beautiful 65m2, fully furnished house for rent, long and short term with tropical style
Self check-in with the key-code.
Front yard with BBQ grill and some basil trees, chilli tree, mango tree..
Back yard is the kitchen and outdoor lavabo with beautiful tropical style decor.
☘️ Location: 20 Hồ Biểu Chánh st, 9 ward, Vungtau city.
10 minutes run by motobike to the Beach, 1 mins to Lapen center with cinema, restaurant, coffee and milktea shop,… Grocery stores closeby
☘️ Apartment Facilities:
There are 3 beds, 1 sofa bed and 1 extra Soft mattress and soft pillow like 4 star hotel, curtain, wardrobe
New & high quality air conditioner
2 bathrooms with hot water for shower
Cable Television
Free hi-speed wifi
Lovely Living rooms with a sofabed
Kitchen cabinet, electric fan, Refrigerator,kettle, Rice cooker, pots…
Dining table for 6-8 guests
Free parking
MotoBike for rent ( 100,000-150,000VND)
☘️ Superhost
Romantic @ Relaxed With 55m2 Sea View Bathtub Apt
Daisy's Studio is located in DIC Phoenix High-Class Commercial Apartment Complex, attractive in the eyes of guests because it's only 500m away from the sea. The building is located right on the largest artificial lake in Vung Tau – Phoenix Lake with spectacular views. It's also only 6km from a buddhist temple, 7km from Ecotourism Park, 8km from Nghinh Phong Cape and Christ of Vung Tau and 10 km from Vung Tau Light House.
With wide windows, We offer a relaxed, luxury accommodation on the 22th floor with stunning views, fresh air and gorgeous natural light. We speak Vietnamese, English, 一点中文 .
You'll have the entire studio to yourself. Please respect the neighbours by keeping quiet in the lobby and in the common areas of the building.
"SWEET HOME" SEAVIEW STUDIO – AIRBNB VUNG TAU
Located on a high floor with an amazing sea view, this lovely studio offers a great getaway with tranquility and relaxation. This is the warmest space where you can comfortably relax and recharge.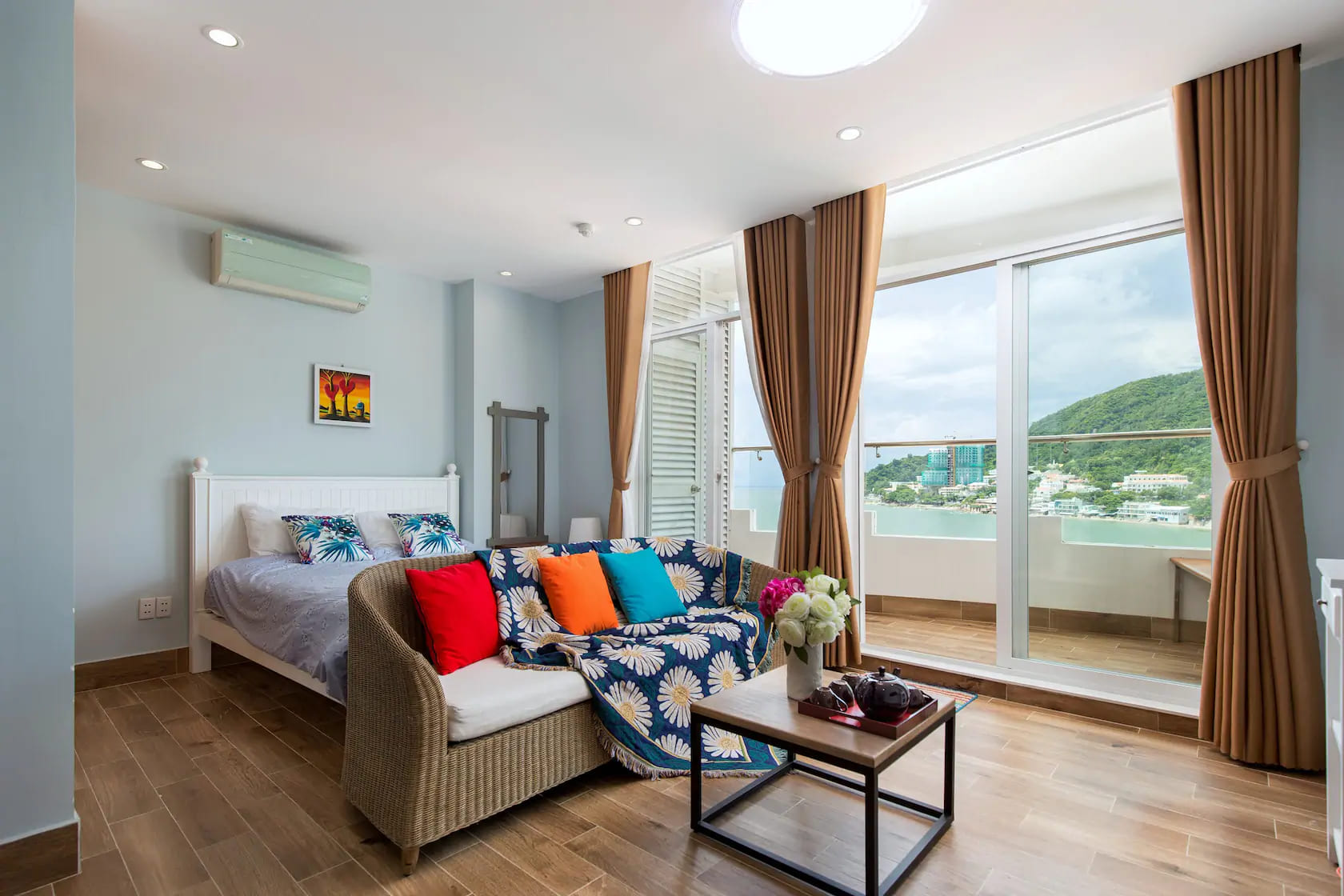 This unique studio is perfect for a small family, couples who wish to experience valuable holiday time peacefully by the sea.
Wifi, cable TV
Fully equipped kitchen.
Washing machine.
Parking.
1 bedroom studio with Air conditioner + 1 Sofa + 1-floor mattress
Jasmine Homestay – Beautiful SeaView Apartment
Just because the location seaside and mountain atmosphere is so fresh, quite good for relaxing. The fresh air of sunrise, cool smell of the small mountain, regularly flowing wind will make u love staying there.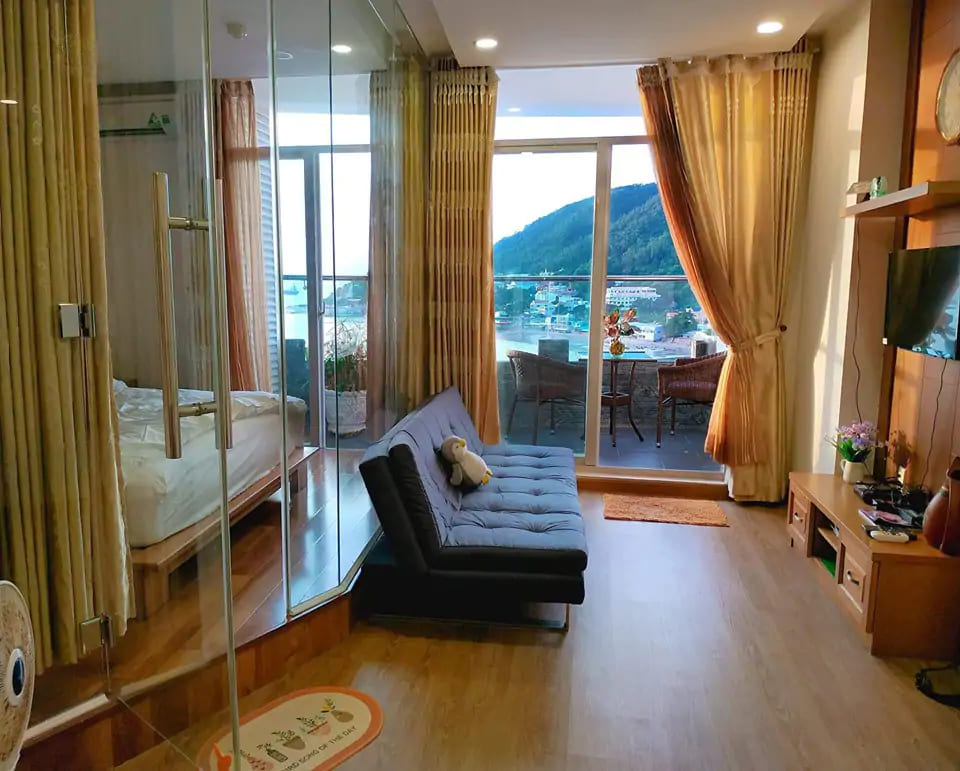 Our apartment has 1 living room, dining space, 1 bedroom (1 double bed and sofa bed), 1 bathroom and the balcony.
The bedroom: Our view from the bedroom is romantic with the view of the grand hill shimmering. We provide air-conditioner, the bed topper, and the bolster.
Kitchen: necessary facilities is provided to cook a delicious meal.
Balcony: spacious balcony with a set of 2 cane-chairs vs 1 table, where guests relax and enjoy the stunning views of the blue sea with a delicious meal.
The Avis Apartments – Attic Double 301
Laundry at 7th floor
Shared terrace
Big pantry at 1st floor
Parking basement
Shared terrace
Private rooms with one bed room, balcony
Private entrance
New, luxury and bright design
Clean and quiet place for accommodation
Reasonable price all year
Multiple booking please contact for better price
6 available rooms
Please call for better price
Please call for long term rental price
Address: 19/4A Hồ Quý Ly, Thắng Tam, Vũng Tàu
With best 10 Airbnb Vung Tau Vietnam, Vietnamtours247 hope you have a good trips in my beautiful contry.
We love you.
Vietnam love you.
Vietnamtours247 love you too.